Great Science Experiments and Demonstrations
One of the fun things about being a science teacher is being able to do hands-on activities and fun demonstrations. These are the things kids remember when they get home, and remember years later. We've all been at some type of picnic or family function and heard someone talking about their crazy, wacky science teacher and the demonstration they did in class. Its multi-sensory, and different than other classes, and therefore more memorable!
What are some of your favorites?
What do you think makes a good demonstration or a good hands-on activity?
Requirements for a good demonstration
In my opinion, these are some things to consider to make a successful demonstration
It must use readily available materials. Materials that are too hard to get are unfamiliar to students and difficult for you to set up. It's also difficult to make up for students who might be absent
Must work reliably! You don't want an activity that only works some of the time, or even most of the time, you need to be pretty sure that it's going to work.
It must clearly demonstrate the principle that you were trying to show. This should not be a leap for students to understand the science after they have done the initial activity or seen the demonstration.
Sometimes I do an activity as a demonstration because I want to talk about it as we're working, it would be difficult for students to carry out correctly, or because I'm limited on space and materials for students to do it on their own or any variety of other reasons including safety. If it is feasible for students to carry out themselves, that is preferable.
Here's a secret for you
As a science teacher, demonstrations are fun, but I don't really like doing them! I get nervous! It's too much like a stage performance. I'd much rather have students run through stations or do activities. But some activities still lend themselves well to demonstrations.
My Favorite Demonstrations
(with accompanying videos; which can be a back up plan if you really don't like doing demonstrations)
STEM Projects
What about stem projects? What are some great stem projects to get your students thinking? Building and interacting? These can be great for the beginning or end of school or even for summer school, summer camps or those off days, such as those with assemblies.
Stem projects and stem activities are such a broad category if you look them up you will find a wide variety of things. In my mind they break into at least two categories. Those that are chance for students to develop a hypothesis and test an experiment, and those that are a chance to build a product and work with a team to problem-solve and create something. These may overlap, for example students may test something to make their product better. However, students aren't really demonstrating the scientific process they're focused on working towards a goal. This is more of an engineering project.
One of my favorites is soda can cars. Students can even recreate this at home if they want to pretty easily.
Another favorite is to see who's raft or boat can support the most pennies or paper clips.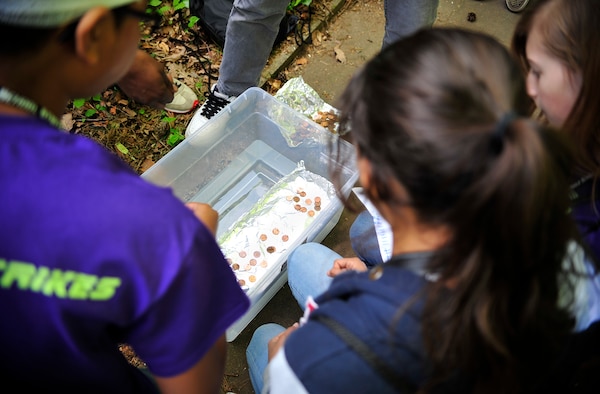 From http://www.ramstein.af.mil/News/Photos/igphoto/2001055392/
There is a common experiment, which is very engaging with milk, food coloring, and dish soap. Just be aware of the potential for a lot of cleanup, or any milk allergies.
Static electricity activities can be easy, fun and engaging, such as bending water, and balloon races. These are described in details here in my FREE STATIC LAB
A balloon car or a CD hovercraft are also a lot of fun, and can be a chance for students to experiment and improve their design.
A solar oven can be a longer-term project where students can really experiment with the materials and the angle, or it can be done as a one time project.
Some of these can be a chance for students to experiment and develop an experiment, hypothesis, and a procedure. Others can be a great chance to explore a new topic or new concept at the beginning of a unit. They are also great as a quick station or engagement activity, as well as a jumping-off point to get further into the unit. In my opinion, they should be something that can be carried out in a period or two, unless you really want to start a much longer project. Otherwise you risk losing the flow of what you are trying to teach.
Lastly, another way to go is longer-term projects such as factors that affect seed or plant growth, longer-term monitoring of weather, composting (conditions that cause garbage to break down) or even setting up ecocolumns.
For more information on these type of projects, I would just looking into Problem based learning (more to come on that). A couple great sources of information are available
here
and
here
.